Step-By-Step Training Program
We are very proud to offer you the following two books which will help you in training the scenting horse and improve your overall horsemanship. These books offer new information which is unique in the horse world. The first book I wrote was The Air Scenting Horse which offers training steps for scenting horses. But I soon found out that most users were not reading their horse's body and sign language correctly, this is the key to success in training the scenting horse. After researching this subject I found out that most other books written on equine body language just scratch the surface when it comes to actual in-depth equine communication. To fill this need I then wrote the Equine Language And Communication Journal which helps the user understand many subtle equine language signs that have been overlooked by other books on this subject. To the best of my knowledge this book covers more equine scenting signs and how scenting is used as a form of equine communication than any other book on the market. Just one example of this is my research on the equine snort. I discovered that some snorts are directly related to scenting while others are not. To the best of my knowledge my discovery on this subject has never been documented by any other author before my original work.
Relying on my 50-plus years of horse experience, I developed a step by step program to train the air scenting detection horse.
My training program uses the horse's natural instincts along with positive reinforcement. To the equine, it's a game, which they really enjoy.
Over the years, I have trained many scent detection horses using the innovative training steps described in this booklet. My horses are finding their subjects with an extremely high probability of detection. It's a thrill to see the horses air scenting, searching, and thinking all on their own.
This training booklet is recommended for all MSAR personnel and natural horsemanship enthusiasts.
Riding scent detection horses provides the natural enthusiast a perfect, first of its kind, avenue for learning equine sign language. During air scent detection training you will develop an understanding of previously undiscovered equine sign language and rely totally on it in order to achieve your detection goal. Horses can learn to use scenting to locate a variety of sources that range from missing people all the way to your horses favorite toy. Equine scent detection is the ultimate horsemanship game and challenge. This is the first step in forming a bond and building natural communication between horse and rider.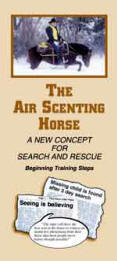 Book/Training Manual
The Air Scenting Horse ( A New Concept For
Search and Rescue) Beginning Training Steps.
This 30-page booklet is written in a manner so it will be of interest to everyone involved in SAR whether they are involved in mounted searching or not and to anyone who has an interest in horses in general. It contains a variety of information, including different methods of scent searching, understanding of scent movement, unique abilities and advantages the horse can offer SAR, a training log, and pictures plus illustrations in a easy-to-read format.
SAR would benefit if this booklet was on the recommended reading list of everyone who has a major involvement in SAR. They would then understand how horses can be best utilized in a search, which is an area that has been misunderstood and overlooked by many in SAR.
Horse people will enjoy the booklet because it includes information on subjects such as natural horsemanship, silent alert signals, and some general training rules that every horse person should know. Of course, it also includes the foundation and only of its kind information for training the air scenting horse. But even if you do not plan to train a finished air scenting horse, some of this type of training will increase your awareness of your horse's silent alert signals, which is knowledge that everyone involved in mounted SAR should have. I have been told of several experiences where people were on a missing person search and did not read their horses correctly, therefore it delayed finding the missing subject. I often wonder how many times has this happened on searches and the victim was never found?
The following is a quote from the book that I believe best describes riding an air scenting horse, "A large portion of the time the rider will be merely a observer. You will have the best seat in the house to witness an instinctive phenomena from your horse that most people never before thought possible." Speaking from experience, I can tell you that it is an incredible experience to be in the saddle when this happens. Most importantly, the booklet is about ways to save lives, and that says it all!
Cost of the booklet is $12.50 plus $2.00 for shipping and handling (U.S. funds only). Minnesota residents please add 81¢ for state sales tax per book. For additional booklets add 60¢ per booklet for shipping and handling. For international shipping rates, please inquire first. Please allow approximately two weeks for delivery. Send check or money order to Whirlwind Farms, Inc., 32908 310th Ave. N.W., Argyle, MN 56713. Please include your email address when ordering in case we need to contact you in regards to your order.
Equine Language And Communication Journal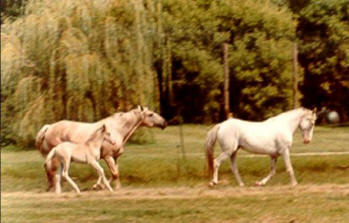 I would like to introduce to you this first-of-its-kind horsemanship tool, it is the Equine Language And Communication Journal by Terry Nowacki - This combination guide and journal will enlighten you on the equine language. This book gives information on newly discovered equine sign and vocal language, much of which has never been put in print before. It provides photograph examples of both primary and secondary sign. There is a special section on scent detection communication that gives examples of sign used in the five different phases of equine air scenting. Besides the valuable information, this book also provides you with categories where you can document, organize and differentiate your own horse's sign language.
To date, very little is understood about the equine language. There have been many books written on the subject of equine body language, but, for the most part, these books just scratch the surface when it comes to actual in-depth equine communication. This is mostly due to the fact that ever since the first horse was domesticated, they were generally thought of as a beast of burden, a mode of transportation, or a pet.
Today the way people are thinking about horses is changing for the better. Many horsemen are realizing the benefits of true natural horsemanship. More and more people are beginning to see how important an understanding of the equine language can be in its use as a horsemanship tool for all training methods. If you want to form a true partnership with your equine, your time would be well spent by learning as much as possible about the equine language. It doesn't matter if your interest lies in owning miniature horses, trail riding, breeding or showing, all horsemen will find value and interest in this book. Studying and recording in this journal will help improve your horsemanship skills, and increase your understanding and appreciation of one of the most amazing noble creatures ever put on the earth-the equine.
Equine Language And Communication Journal - ( loose leaf, hard cover)
Because this Journal offers pages for you to document your own research and notes on sign language, it comes in a loose leaf form along with a three ring binder.
Price = $29.00
Shipping and handling for one book =$9.00
Total =$38.00
If you want this Journal mailed out of the US please e mail me for additional postage rates.
Allow a average time of two weeks for delivery time.
Please make payment to Whirlwind Farms Inc. and send check or money to:
Whirlwind Farms Inc.
32908 310th AVE. N.W.
Argyle Minnesota, 56713
For both books the price is as follows:
Equine Language And Communication Journal - $29.00
The Air Scenting Horse - $12.50

Shipping and handling for both books - $9.00
Total = $50.50